More on cystic lymphadenopathy associated with pancreatitis in dogs
A while ago I wrote a post reporting cases of dogs with a history of pancreatitis who have multiple apparently cystic lesions within their hepatic and pancreatic lymph nodes.
Obviously association is not necessarily causation.  However, my impression is that the association is strong and predominantly affects the nodes draining the pancreas.  This week I saw a 4 y.o. Minature Schnauzer with acute onset abdominal pain, vomiting, strongly positive snap cPL test and convincing sonographic features of acute pancreatitis (and no other apparent cause of signs).
And in this dog we may have caught the process of cyst formation in the pancreaticoduodenal lymph node (or it could be incidental obviously):
With colour Doppler: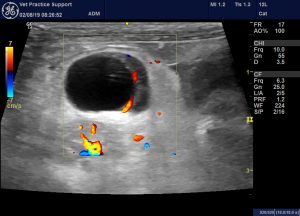 Interestingly, there are also small cystic spaces within the jejunal nodes:
This is something I've seen in the jejunal nodes of other dogs as an incidental finding which, at the time, I couldn't explain.
My guess is this has something to do with proteolytic/lipolytic enzymes reaching the nodes.
This paper is very relevant here:
Vet Rec. 2017 Apr 1;180(13):326. doi: 10.1136/vr.103795. Epub 2017 Jan 11.
Prevalence, location and concurrent diseases of ultrasonographic cyst-like lesions of abdominal lymph nodes in dogs.
Liotta A1, Billen F2, Heimann M3, Hamaide A4, Rizza M1, Etienne AL1, Bolen G1.
https://veterinaryrecord.bmj.com/content/180/13/326
Those authors found that cystic nodal lesions in dogs were most common in lumbar lymphocenter (7/23 dogs), followed by the coeliac (6/23), the cranial mesenteric (5/23) and the iliosacral (5/23).  With no cases in that series exhibiting cysts in hepatic or pancreaticoduodenal nodes.  Only 1/23 cases had a diagnosis of pancreatitis.  That's an interesting contrast to the situation in our patients in the UK….and one which I can't currently explain.