Ultrasound of the canine and feline oesophagus
There's not a whole lot in the published literature on sonography of the oesophagus.  With a lot of it being inaccessible within the mediastinum other imaging modalities are required for a full assessment.  However, it's certainly possible to see both the cervical part and the distal oesophagus and worth looking for abnormalities as part of a routine exam.
Especially in cats and non-deep-chested dogs the distal oesophagus is easy enough to see from transabdominal views either dorsal left or right.
Now, this is a similar view from a very sick cat with a history of 'bringing up food':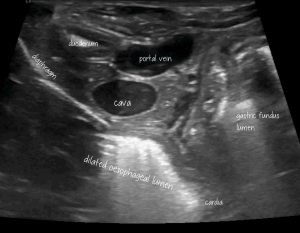 There's nothing in this cat's abdomen to explain the 'bringing up food' or profound weight loss but that distal oesophagus is very suspicious.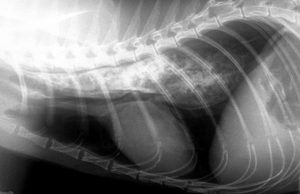 OK, the radiograph is more diagnostic!
This turned out to be a post-GA oesophageal stricture.
The cervical oesophagus can be seen very nicely with a linear probe.
This is a transverse view of a somewhat dilated oesophagus in a dog with idiopathic megaoesophagus.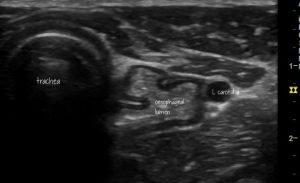 And in longitudinal plane: at the base of the neck there is more gas in the lumen than expected.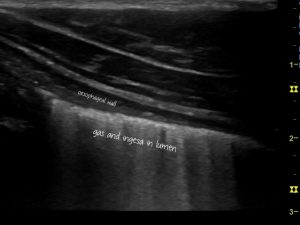 Again, neither of these views are, in themselves, diagnostic: but it's enough of a clue to suggest that further investigations should be directed at possible oesophageal dysfunction.