Ultrasonographic features of acute canine lung lobe torsion
It's been a while since I've had a chance to scan a lung lobe torsion case: since when my machine got upgraded.
This patient is a young Whippet with a 24 hour history of acute-onset cough, tachypnoea and pleural effusion (modified transudate).
Her echocardiogram is interesting.  Although we have to take into account the fact that she's had quite a bit of frusemide by this stage, there's no evidence to suggest L CHF.  Systolic function is reasonable and there's no Doppler evidence of valvular insufficiency or stenosis or shunting.  The most striking feature is apparent right atrial tamponade.
Now, a pleural effusion is clearly present and, occasionally, one does come across a pleural effusion sufficient to cause right atrial tamponade….especially if diuresis has reduced venous return to the heart.
e.g. http://www.revespcardiol.org/en/cardiac-tamponade-secondary-to-pleural/articulo/13130647/
However, the pleural effusion here doesn't look dramatic.  What's more there is a 'structure' which appears to be directly compressing the atrium.  Flow through the atrium is accelerated due to this constriction.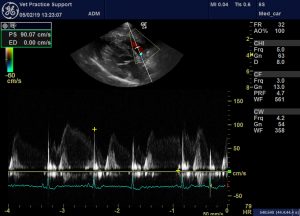 Her lungs are also interesting.  Here's the left hemithorax:
….that couldn't be more normal.
But on the right:
And a frozen image of another angle on the same area (labelled erroneously as left):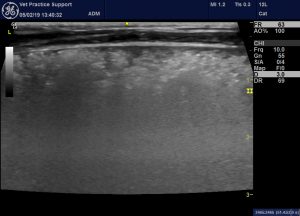 ….there is a large consolidated area which appears to be delineated by the pleural margins of the middle lobe.  Normally-arranged vessels and bronchi are present: which tends to suggest it's not neoplastic.  Neither is there the typical serrated margins to the consolidated area which we see with pneumonia.  In particular, the frozen image looks very atypical for pneumonia: diffuse, indistinctly-marginated hypoechoic change.  I have seen angiostrongylosis look similar to this.  However, angiostrongylosis would be expected to affect both lungs if it were this severe.
In my experience it would be usual for pneumonia to be completely unilateral to this extent also.  A lobar pneumonia causing widespread B lines through the whole of one lung would normally cause some acute lung injury/acute respiratory distress syndrome on the other side.
Widespread or severe pulmonary thromboembolism (as seen with Angiostrongylosis) might cause this kind of lung change.  However, in that case we would expect to see echocardiographic evidence of pulmonary arterial hypertension.
There is a further clue to possible torsion in that video clip.  In a longitudinal plane view like that the caudal edge of the lung should have an angular margin: rather than the rounded profile that we see in this case.
Lung lobe torsion was confirmed with CT and subsequent surgery.
I don't know whether that compression of the right atrium is a consistent feature of lung lobe torsion.  Since the right middle lobe is generally reported as the one most predisposed to torsion it might be a feature worth looking for..