Sonographic pancreatic and lung changes in cats with FIP
FIP is frequently included in differential diagnosis lists for feline pancreatitis.  However, there seems to be a lack of specific case descriptions other than in post-mortem histopathological surveys.
There's only one paper that I'm aware of looking at sonographic features of FIP:
Abdominal ultrasonographic findings associated with feline infectious peritonitis: a retrospective review of 16 cases.
Lewis KM, O'Brien RT.
J Am Anim Hosp Assoc. 2010 May-Jun;46(3):152-60.
https://www.ncbi.nlm.nih.gov/pubmed/20439937
And those authors didn't report pancreatic changes in their series: that's also my experience in the majority of cases.  However, the occasional presumed FIP case does.
This is an 18-month-old oriental cat with fever, icterus, elevated globulins and a very high coronavirus titre who eventually went on to develop uveitis and, sadly, was eventually euthanased due to progressive weight loss and anorexia.
The pancreas is diffusely swollen, hypoechoic and contrasts with adjacent hyperechoic peripancreatic fat.  The left side is similarly affected:
And this is a second patient: also with a convincing (and fatal) set of clinical and clinico-pathological features of FIP and a high anti-FCoV titre.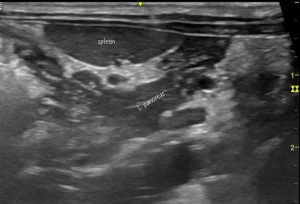 Neither of these cats demonstrated convincing abdominal pain or vomiting as often seen in 'conventional' acute pancreatitis.
Similarly, I'm not sure that lung ultrasound images from cats with FIP have been published.  Although I think pneumonitis is widely described as a feature.
Commonly, FIP-affected cats have a wide scatter of B lines and sometimes, as here, there are small consolidated patches.  This can be quite useful in helping to distinguish cholangiohepatitis from FIP.  Alternative causes of lung changes in icteric cats include toxoplasmosis, overhydration due to fluid therapy or bacterial pneumonia in association with hepatopathy.
It's worth noting that FIP-induced cardiomyopathy with left-sided congestive failure is an alternative cause of increased B lines:
Journal of Animal Clinical Medicine
Volume 25 (2016) Issue 4 
Two Feline Cases of Dilated Cardiomyopathy-Like Disease Caused by Feline Infectious Peritonitis Virus
Tomohiko YOSHIDA, Naoki ICHIKAWA, Masahiko KOIKE, Taku HIROKAWA, Kazuyoshi SASAOKA, Noboru MACHIDA, Masayuki TAGUCHI
https://www.jstage.jst.go.jp/article/dobutsurinshoigaku/25/4/25_148/_article/-char/en