Lung ultrasound in feline asthma
Acute severe dyspnoea is a common, life-threatening condition in cats.  The principal differentials being:
cardiogenic pulmonary oedema
asthma/allergic airway disease
pleural effusion of various causes
pneumothorax
ruptured diaphragm
Ultrasonography is a useful tool to distinguish between these and offers major advantages in that it can usually be performed quickly, without manual or chemical restraint by relatively inexperienced sonographers.
The technique can be described as 'apply probe to thorax'.
This patient responded well to glucocorticoids and oxygen alone and is presumed to have been suffering from asthma: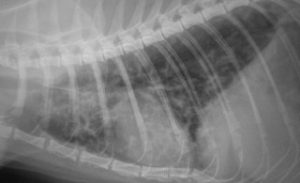 The thoracic wall occupies the near field.  The underlying lung exhibits patchy hypoechoic collapse/consolidation and increased B lines.  This appearance is not completely specific for allergic airway disease: other inflammatory pneumopathies including pneumonia, lungworm and traumatic contusions can look similar.  However, asthma is the commonest cause
Cardiogenic pulmonary oedema rarely causes subpleural consolidation (although the lung margin can look 'fuzzy'):