Our experience with the Freestyle Libre continuous glucose monitoring system in diabetic dogs
The limitations of glucose curves and fructosamine assays in managing diabetic pets are well established.  For example:
FRUCTOSAMINE LEVELS DO NOT AGREE WITH CLINICAL CLASSIFICATION REGARDING DIABETIC COMPENSATION IN DIABETIC DOGS UNDER TREATMENT.
P. Claus, A.M. Gimenes, J.R. Castro, D.S. Schwartz.  2014 ACVIM Abstract
and
Evaluation of day-to-day variability of serial blood glucose concentration curves in diabetic dogs
Linda M. Fleeman, BVSc, and Jacquie S. Rand, BVSc, DVSc, DACVIM
JAVMA, Vol 222, No. 3, February 1, 2003
Bottom line:  'In this subset of 20 paired curves, an opposite recommendation for dosage adjustment was made on 40% of occasions. Conclusions and Clinical Relevance—There is large day-to-day variation in parameters of serial blood glucose concentration curves in diabetic dogs.'
But now, not before time, we have a reasonable alternative.  The Freestyle Libre continuous glucose monitoring system (CGMS).  Its use in dogs is supported by at least preliminary reports:
J Vet Intern Med. 2016 Jul-Aug; 30(4): 983–988.
Accuracy of a Flash Glucose Monitoring System in Diabetic Dogs
S. Corradini, 1 B. Pilosio, 1 F. Dondi, 1 G. Linari, 1 S. Testa, 1 F. Brugnoli, 2 P. Gianella, 3 M. Pietra, 1 and F. Fracassicorresponding author
http://onlinelibrary.wiley.com/doi/10.1111/jvim.14355/pdf
'Conclusion and clinical importance: The FGMS is easy to use and is accurate for IG glucose measurement in diabetic dogs.'
We've now used this in a few dogs and our experience is that it's reasonably-priced, easy to apply, easy to extract data and, on the whole, reliable in the euglycaemic to hyperglycaemic range.  Just one patient of ours showed a clear discrepancy between CGMS data and glucometer readings after a few days of initially believable data.
Application:
We haven't generally covered or bandaged the sensor although I believe that some clinicians do.  A little dab of tissue glue helps.
The sampling catheter is extremely fine:
The site after sensor removal 2 weeks later: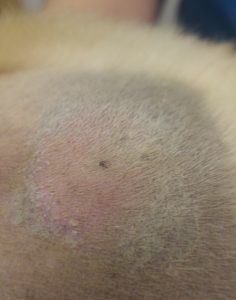 You can read data from the sensor wirelessly using either an NFC-enabled smartphone or the reader which can be purchased along with each sensor.  The sensor stores 8 hours of data. In order to avoid some data loss the sensor must be read with the reader/phone at least every 8 hours.  We've not had an problems with owners managing this themselves.
And this is what you get:
*Thanks to Jonathan at Bentley Road Vets, Doncaster for forwarding the data and to Wendy and Molly at Chesterfield Companion Care for filming and modelling respectively.