Multiple acquired portosystemic shunts (MAPSS) in puppies and young dogs: a syndrome compatible with congenital ductal plate abnormalities
Recently I've seen two three-month-old dogs with multiple (numerous) small portosystemic shunts in the absence of inflammatory liver disease. The patient whose images are presented below was examined on account of acute encephalopathy with bile acids >130 umol/l and ALT > 600 (ref <100).
The same in video:
This flow courses via colic veins to enter the left renal vein on its caudal aspect:
And again, in video:
The shunt into the renal vein is fed by a large plexus of abnormal vessels behind the kidney. In dogs, this morphology is normally characteristic of acquired shunts.
But that's not the only shunting going on. There are numerous other small shunt vessels in the mesentery -many running direct to the cava.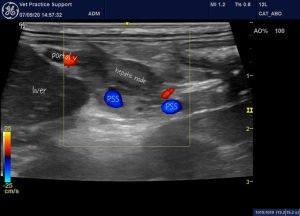 You can get some impression of the numerous small, shunts in this video of the porta hepatis. The large red-coded vessel is the hyperplastic hepatic artery:
Liver biopsies revealed:
'...severe pathology with severe, bridging portal fibrosis and associated bile
duct hyperplasia as well as vascular duplication. There are a few lobules of
hepatocytes visible between these areas and they are morphologically normal with only mild vacuolar change noted occasionally. Bile duct hyperplasia can be observed into these regions as well. Primordial vascular
proliferation is noted into the hepatic lobules as well. Portal vein structures cannot be identified.
COMMENT
Liver biopsy shows portal fibrosis associated with bile duct (ductular reaction) and vascular hyperplasia and duplication with absent/indistinguishable hepatic veins. These changes are consistent with the shunt as mentioned in the history and is consistent with a congenital portosystemic vascular anomaly but please correlate with diagnostic imaging to confirm the presence of an extrahepatic shunt. There is no indication of inflammation or an infectious aetiology.'
The situation in this dog was complicated by an acute presentation with sepsis, neutrophiia, monocytosis and widespread lung changes with the 'shred sign' typical of pneumonia: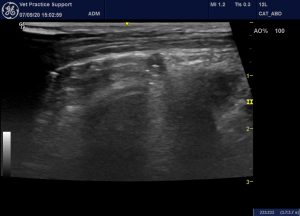 That could, of course, be simple coincidence.  However, it seems quite possible that a predisposition to infection could be due to reduced liver function.
Schweiz Arch Tierheilkd. 2003 Aug;145(8):363-8
Recurrent fever as the only or predominant clinical sign in four dogs and one cat with congenital portosystemic vascular anomalies
G Wess 1, S Unterer, M Haller, A Hasler, C Reusch, T Glaus
https://pubmed.ncbi.nlm.nih.gov/12951907/
As the authors of that paper report, bacteria originating in the gastrointestinal tract of dogs with portosystemic shunts can bypass the mononuclear phagocyte system of the liver and create a systemic inflammatory state.  Fever in dogs with shunts is usually antibiotic responsive.
The histopathological changes described are compatible with the recently-described (in dogs) phenomenon of ductal plate malformation -which was first described as 'congenital hepatic fibrosis'.
Vet Pathol 2010 Jan;47(1):102-7
Congenital hepatic fibrosis in 5 dogs
D L Brown 1, T Van Winkle, T Cecere, S Rushton, C Brachelente, J M Cullen
https://pubmed.ncbi.nlm.nih.gov/20080489/
Vet Pathol . 2016 May;53(3):602-13
Ductal Plate Malformation in the Liver of Boxer Dogs: Clinical and Histological Features
S Pillai 1, S A Center 2, S P McDonough 3, J Demarco 4, J Pintar 4, A K Henderson 4, J Cooper 5, T Bolton 6, K Sharpe 7, S Hill 8, A G Benedict 9, R Haviland 
https://journals.sagepub.com/doi/10.1177/0300985815610567?url_ver=Z39.88-2003&rfr_id=ori:rid:crossref.org&rfr_dat=cr_pub%20%200pubmed
These dogs often present with subtly different signs, clinical pathology and sonographic findings from conventional single extrahepatic portosystemic shunts.
'Clinical features included increased serum levels of liver enzymes (28), gastrointestinal signs (16), poor body condition (14), abdominal effusion (9), and hepatic encephalopathy (2). Additional malformations included gallbladder atresia (8), atrophied left liver (2), absent quadrate lobe with left-displaced gallbladder (1), portal vasculature atresia (left liver, 1), intrahepatic portosystemic shunt (1), and complex intrahepatic arteriovenous malformation (1)'
Essentially, these dogs are born with periportal fibrosis which causes early onset of portal hypertension; presumably soon after the closure of the ductus venosus (in the first week after birth).