Furosemide vs torasemide* as first line oral diuretic in dogs with congestive heart failure
*Note on nomenclature: torasemide is effectively the WHO official name; torsemide the US name.
In human CHF management we have a good, bang-up-to-date meta-analysis comparing furosemide with torasemide:
Am J Cardiol. 2020 Jan 1;125(1):92-99
Meta-Analysis Comparing Torsemide Versus Furosemide in Patients With Heart Failure.
Abraham B1, Megaly M2, Sous M3, Fransawyalkomos M4, Saad M5, Fraser R2, Topf J6, Goldsmith S7, Simegn M7, Bart B8, Azzo Z9, Mesiha N9, Sharma R10.
https://www.ncbi.nlm.nih.gov/pubmed/31699358
' In conclusion, compared with furosemide, torsemide use was associated with significant more improvement in functional status and lower cardiac mortality; and numerically fewer hospitalizations in patients with heart failure'
The same appears to be true in rats:
Comparative effects of torasemide and furosemide in rats with heart failure
March 2008Biochemical Pharmacology 75(3):649-59
Punniyakoti VTPunniyakoti VTKenichi WatanabeMeilei Ma
https://www.researchgate.net/publication/5844690_Comparative_effects_of_torasemide_and_furosemide_in_rats_with_heart_failure
'Our results demonstrate that compared with furosemide, torasemide treatment significantly improved survival rate, LV function and ameliorated the progression of cardiac remodeling in rats with CHF'
As well as differences in bioavailability and diuretic potency, it has been suggested that torasemide might have antialdosterone and vasodilator effects.  However, the venodilator effect is similar to that induced by furosemide.  And any anti-aldosterone effect may not be all that:
Journal of Cardiac Failure 
ABSTRACT ONLY| VOLUME 23, ISSUE 8, SUPPLEMENT , S25, AUGUST 01, 2017
Torsemide Does Not Have Clinically Relevant Anti-Aldosterone Effects in Human Heart Failure
Devin Mahoney, Veena Rao, Keyanna Jackson
https://www.onlinejcf.com/article/S1071-9164(17)30282-8/fulltext
We now also have a growing body of evidence for dogs:
J Vet Intern Med. 2017 Nov-Dec; 31(6): 1629–1642.
Short‐Term Efficacy and Safety of Torasemide and Furosemide in 366 Dogs with Degenerative Mitral Valve Disease: The TEST Study
V. Chetboul, 1 , 2 J.‐L. Pouchelon, 1 , 2 J. Menard, 3 J. Blanc, 4 L. Desquilbet, 5 A. Petit, 1 S. Rougier, 4 L. Lucats, 4 F. Woehrle
https://www.ncbi.nlm.nih.gov/pmc/articles/PMC5697186/
This large study demonstrated non-inferior short-term response rate and better survival with torasemide over the first 100 days: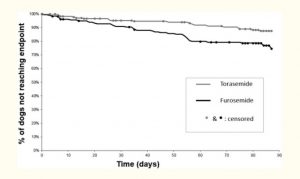 Importantly,
'No significant difference in incidence of death (spontaneous and euthanasia) due to renal events was found between the Torasemide (4%) and the Furosemide group (2%; P = 0.22). Likewise, there was no significant difference in events (i.e, cardiac, renal, or electrolyte events) leading to withdrawal between the 2 treatment groups.'
That survival curve compares very convincingly with that from:
EFFICACY AND SAFETY OF ISEMID® IN DOGS WITH FIRST ONSET OF
CONGESTIVE HEART FAILURE: THE CARPODIEM AND SAFEDIEM STUDIES
http://grupoasis.com.es/desarrollo/clientes/emailings/2019/ceva/P786543_20191029_isemid/assets/pdf/symposium_proceedings.pdf
…which will hopefully be published in full in JVIM very soon.
The other vital consideration is that torasemide can be used with a once-daily dose regime. Although pharmacokinetic data suggests that twice daily may be indicated where maximum effect becomes important.
It's interesting to note the general drift in thinking towards believing that elevations in plasma creatinine after instigating treatment may not necessarily indicate worsening prognosis (or a need to reduce diuretic dose) for CHF patients.  Essentially, cardio-renal syndrome in many patients may well be due to renal venous congestion (which may well improve with diuresis) rather than falling perfusion pressure (which hypothetically might not).
Based on current evidence, I can see no reason to continue using furosemide as first choice oral diuretic in canine CHF patients.