Demodex injae dermatitis in dogs
Three forms of Demodex are carried by dogs and are sometimes associated with dermatitis
D. canis and D. cornei have been shown to be morphological variants of the same species.  Which makes sense since they can often be found in the same skin scrapes from dogs affected with conventional demodicosis.
Phylogenetic relationships in three species of canine Demodex mite based on partial sequences of mitochondrial 16S rDNA.
D. injae, however, is a different and genetically-distinct beast.  Which makes sense because it causes a different presentation: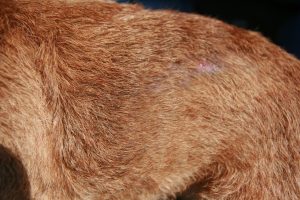 Rather than discrete non-pruritic alopecic patches or pododermatitis, D. injae is associated with truncal pruritis with often rather subtle skin changes -greasiness, hypotrichosis and erythema.  Typical affected breeds are terriers (WHWT, fox terriers, Lakelands…).
And the mites are rather magnificent: