BRAF mutation testing for canine transitional cell carcinoma and prostatic carcinoma
There's no point fighting against progress.  Although this might reduce our sonography workload, I think it's worth publicising this new urine test for canine bladder/urethra/prostate cancer (TCC or PC) because it looks like a real step forward.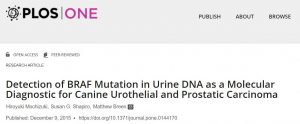 https://journals.plos.org/plosone/article?id=10.1371/journal.pone.0144170
There is a recent review of practical application of the test here:
http://veterinarymedicine.dvm360.com/urine-luck-new-test-canine-bladder-and-prostate-cancer?pageID=2
Specificity seems to be excellent (@100%) for both TCC and PC.  Sensitivity was @85% for TCC with a decent number of cases assessed.  It was also very high for PC in the Mochizuki et al. paper but only a handful of cases were included.
In the UK this test is available through Laboklin (and possibly others; I haven't trawled through them all):
http://www.laboklin.co.uk/laboklin/showGeneticTest.jsp?testID=8675
Importantly, results do not seem to be affected by haematuria, pyuria etc.  5-10ml urine or smears of catheter samples are suitable.
Obviously you'll still need to scan them for staging though 🙂
…and the image at the top is a bladder rupture in a dog with an obstructing urethral calculus and an intraluminal bladder clot…….