Anal sac ultrasound in dogs: a case of emphysematous anal sacculitis
Amazingly (actually maybe it's not amazing :/) there appears to be just one published study on ultrasonography of canine anal sacs. This reflects a general lack of enthusiasm for anyone getting to grips with pathological conditions of the AGs.  And it's a sad state of affairs since they're easy and rewarding to scan.
That one ground-breaking study is:
---
Diagnostic imaging features of normal anal sacs in dogs and cats
Technique is straightforward: a linear probe gives best results and i usually scan in a transverse plane from a point ventral to the anus with the beam directed dorsally and about 20 degrees angled cranially.
Simples.
The present patient has a history of chronic anal irritation unresponsive to various antibiotics, glucocorticoids or oclacitinib.
On sonography of the perianal area: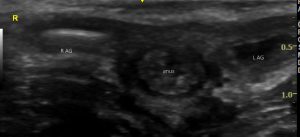 This is really not normal.  The left anal gland is OK but on the left the anal gland lumen is gas filled.
In video:
Cytology of right anal gland secretion revealed large numbers of degenerate neutrophils and bacteria: some of which were intracellular.
About 10% of 'normal' asymptomatic dogs have neutrophils in their anal gland secretions.  However, they tend to be <10 per HPF and non-degenerate:
---
J Vet Med A Physiol Pathol Clin Med. 2004 Jun;51(5):249-53.
Gross and cytological characteristics of normal canine anal-sac secretions.
---
At the time we theorised that this might be an emphysematous anal sacculitis (not that such a thing has ever been reported to the best of our knowledge…but it seemed like a reasonable explanation).  On this basis 3 weeks of co-amoxiclav were dispensed: to no noticeable effect.
Although, on re-examination post-antibiotic the gas had vanished from the right gland:
However, the perisaccular soft tissue remains patchily hyperechoic and the contents are hyperechoic compared to the left gland:
Bilateral anal sacculectomy was performed.  Histopathology:
'The epithelial lining of the sac is extensively ulcerated and there is a mixed inflammatory reaction surrounding the wall with occasional lymphoid follicles'
On culture a mixed growth was present in samples from both glands.  That from the right gland featured a heavy growth of Staph pseudintermedius sensitive to most antibiotics including co-amoclav.
This is all interesting on several fronts: firstly, I can't find any other reports of ultrasonographic appearance of anal sacculitis in dogs.  Secondly, emphysematous anal sacculitis may be a previously-undescribed entity.  I find it easy to imagine that an anal gland full of gas might be painful.  Thirdly, a 3 week course of an apparently appropriate antibiotic filed to eliminate an apparently sensitive Staph from the anal gland.