Adipose-derived mesenchymal stem cells in the management of chronic hepatitis in Springer Spaniel
Chronic hepatitis is a big issue in Springers in our part of the world:
Vet Rec.
2011 Oct 15;169(16):415. doi: 10.1136/vr.d4665. Epub 2011 Aug 18.
Chronic hepatitis in the English springer spaniel: clinical presentation, histological description and outcome.
..and it's frequently a frustrating and difficult condition to treat.  Median survival in this particular paper was 189 days.  At the time of writing we have no strong evidence-based rationale for using any medication although combinations of ursodeoxycholic acid, S-adenosyl methionine, silymarin, glucocorticoids and antibiotics are often employed.
Recent developments have raised the possibility of using stem cell technology.  In particular this article is interesting:
Wang Y, Lian F, Li J, Fan W, Xu H, Yang X, Liang L, Chen W, Yang J.
J Transl Med. 2012 Jun 26;10:133
Adipose is a rich source of stem cells and can be harvested with minimal peri-operative morbidity.  These authors compared tail vein and portal vein infusion of adipose-derived mesenchymal stem cells (ADMSCs) in rats with induced hepatopathy.  At 12 weeks post treatment there were marked improvements in liver perfusion in the portal vein group despite continued administration of hepatotoxic CCl4: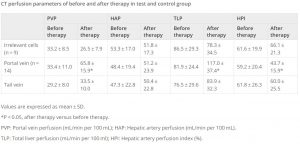 Our patient, Jess, has suffered bouts of malaise with icterus of increasing severity over the last year. Ultrasonography and biopsies revealed a severe fibrosing hepatopathy typical of the breed-associated condition as described above.
Despite conventional treatment she has continued to deteriorate and in view of her poor prognosis we discussed with her owners the option for stem cell therapy.
There is increasing evidence that such techniques are at least safe e.g.:
Vet J.
2015 Dec;206(3):385-90. doi: 10.1016/j.tvjl.2015.08.003. Epub 2015 Aug 7.
Safety and efficacy of allogeneic adipose tissue-derived mesenchymal
stem cells

for treatment of

dogs

with inflammatory bowel disease: Clinical and laboratory outcomes.
Thus, after harvesting and culturing stem cells:
This week we administered 20,000,000 ADMSCs into her portal circulation via ultrasound-guided trans-splenic injection into a splenic vein.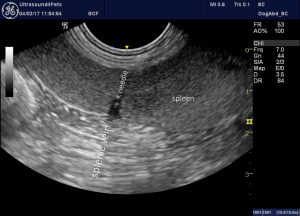 The procedure was free from complications and we await developments…..