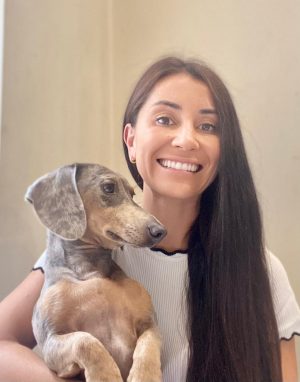 Tamara moved to the UK from Spain in 2016, having obtained her degree in Veterinary Medicine in 2012 at the University of Santiago de Compostela. She moved to Madrid after graduating and spent 4 years working in first opinion and emergency practice.
Having an interest in imaging, she undertook some imaging courses alongside a Postgrad in Internal Medicine and Emergencies.
Since coming to the UK, she worked in first opinion practice for a year, undertook both the RCVS course in Endoscopy and the AdvantEdge course with VetsNow and worked as emergency vet for almost 2 years. After trying different disciplines, she always had a preference for imaging and decided to do the General Practitioner Certificate in Imaging, finishing in July 2022.
When not working, she enjoys her free time dancing, travelling, scuba diving and surfing. She has an adorable dog called Pistacho (photographed here) that loves adventure as much she does.