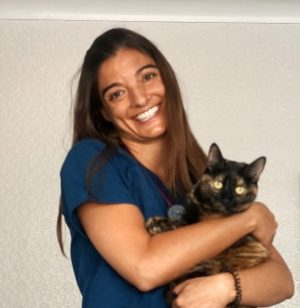 Since she was a young child, Rita always had a passion for animals and their care, which contributed massively to her decision to become a Vet. She graduated from Lisbon University, Portugal, in 2009.
Since then she has worked in several first opinion practices in Portugal then moved to the UK in 2018, where she worked in a Tier 3 hospital, having the chance to follow complex clinical cases. She enjoys all aspects of her job, particularly cardiology and internal medicine and in 2016 she started her studies in cardiology through the ESAVS, completing the Advanced Veterinary Practitioner in 2021 (RCVS CertAVP) and is continuing to work towards further qualifications.
She is blessed with the company of a lovely naughty "tortie" named Malu and in her free time enjoys hiking, travelling and photography.