Idiopathic gastric ulceration in dogs (and in Labradors in particular) and sonographic appearance of gastric intraluminal blood clots
Reading most texts you'd get the impression that gastric ulceration in dogs is invariably secondary to something: hypoadrenocorticism, NSAIDs, gastrinoma, mast cell tumour, renal insufficiency and the like.
https://www.msdvetmanual.com/digestive-system/diseases-of-the-stomach-and-intestines-in-small-animals/gastrointestinal-ulcers-in-small-animals
As the years go by I realise that a large proportion of the cases that I see remain unexplained; and many of these patients go on to recover and live long and otherwise healthy lives.  I guess some of them many have scrounged some NSAIDs unknown to anybody.  Or their owners didn't own up to giving ibuprofen.
The present patient is a 6y.o., unmedicated, otherwise healthy male Labrador with acute onset abdominal pain, malaise, melaena and anaemia.  From a sonographists perspective this was an extremely challenging case.  After an exhaustive and exhausting survey of the thorax and abdomen the only abnormalities identified were in the stomach.
So far so straightforward.  However, the gastric lumen also contains a large irregular 'structure' of apparent soft tissue density.  It was difficult to define the relationship between this mass and the gastric wall.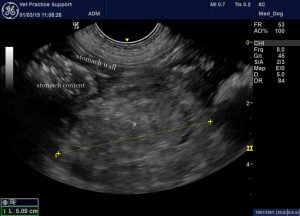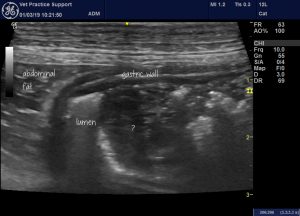 Although it wasn't possible to demonstrate vascularity with colour Doppler, I couldn't be completely confident about that because of rapid respiratory movements and interference from gas in the lumen.  An aspirate yielded red cells and some neutrophils.
Anyway, this patient was deteriorating while we were examining him; becoming recumbent and progressively more hypotensive.  Regardless of exact cause it did seem that he was probably suffering a gastric bleed.  After transfusion he was anaesthetised.  On gastroscopy the lumen was found to be full of blood which hampered visiblity.  At laparotomy and gastrotomy a large bleeding gastric ulcer was confirmed and resected.  The 'mass' was revealed to be a huge intraluminal blood clot: something I've never seen before or since.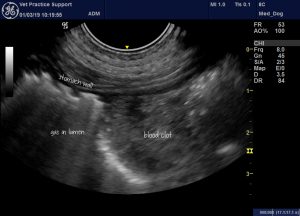 Histopathology of the resected gastric wall revealed no clues as to aetiology.  Four months later, after some omeprazole and recuperation he remains otherwise very well.  Repeat abdominal ultrasound, haematology, biochemistry and endocrinology continues to draw a blank as to any underlying cause.
Published papers consistently feature Labrador Retrievers amongst the most ulcer-predisposed breeds.  I always presumed that this was due to their musculoskeletal issues and NSAID use.  However, I'm becoming increasing suspicious that, independent of medication, they have an inherent tendency to gastritis and ulceration which we don't fully understand.  We also see numbers of Labradors with chronic vomiting who demonstrate unexplained gastritis on histopathology.
Although it's true that if you Google enough for association between any breed and any diagnosis you'll eventually come up with something to support your hypothesis….there indeed are a few published cases which fit the picture.
https://www.ncbi.nlm.nih.gov/pmc/articles/PMC1082873/