Canine cholecystitis without icterus: an indication of biliary rupture. And sonographic features of emphysematous cholecystitis.
We now have two nice published case series of canine cholecystitis, cholangitis and/or cholangiohepatitis:
J Vet Intern Med. 2016 Jul;30(4):1046-55. doi: 10.1111/jvim.13974. Epub 2016 May 20.
Bacterial Cholangitis, Cholecystitis, or both in Dogs.
Tamborini A1, Jahns H1, McAllister H1, Kent A2, Harris B2, Procoli F3, Allenspach K3, Hall EJ4, Day MJ4, Watson PJ2, O'Neill EJ1.
https://onlinelibrary.wiley.com/doi/epdf/10.1111/jvim.13974
J Vet Intern Med. 2018 Jan;32(1):172-180. doi: 10.1111/jvim.14866. Epub 2017 Nov 13.
Cholangitis and Cholangiohepatitis in Dogs: A Descriptive Study of 54 Cases Based on Histopathologic Diagnosis (2004-2014).
Harrison JL1, Turek BJ2, Brown DC1, Bradley C2, Callahan Clark J1.
https://onlinelibrary.wiley.com/doi/epdf/10.1111/jvim.14866
These have significantly pushed things forward.  There is a line in the discussion of Tamborini et al.:
'The 3 cases without hyperbilirubinemia in this group of acute cases all had gallbladder rupture when investigated further'
…which I hadn't given much consideration until the present case:
A six-year-old FN Akita presented with acute malaise, anorexia, abdominal pain and fever.  Plasma biochemistry revealed marked elevations in ALT and alkP but bilirubin was within normal limits.
On ultrasound there was convincing evidence of gallbladder pathology:
The identity of those hyperechoic foci is important.  A good discussion and nice images of this in human sonography can be found here:
Ultrasound Int Open. 2015 Nov; 1(2): E72–E75.
"The Effervescent Gallbladder": A Rare Ultrasonographic Finding that Reflects the Presence of Gas within the Gallbladder
Á. Lozano Rodríguez,1 R. Fuentes Pavón,1 P. Junguera Rionda,1 P. Alemán Flores,1 A. Fuentes González,2 C. López Gutiérrez,1 and D. Batista Martín1
https://www.ncbi.nlm.nih.gov/pmc/articles/PMC5023206/
The present case may well have a combination of different echogenic particles. However, there are reliable features of emphysematous cholecystitis: the 'effervescent gallbladder'.
Cytology of bile aspirated via percutaneous cholecystocentesis revealed numerous bacterial rods: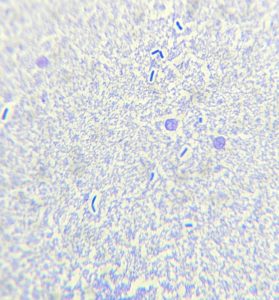 Interestingly, the bile was grossly clear/blood-tinged (i.e. not green):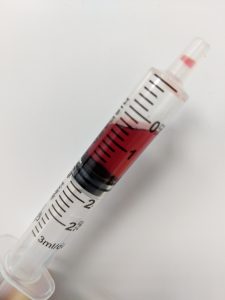 There was also a small abdominal effusion.  Cytology of this demonstrated bile crystals and bacteria: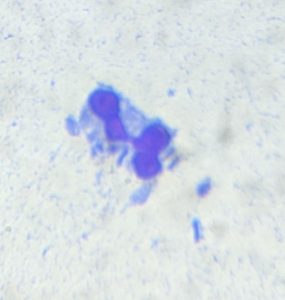 At laparotomy the gallbladder was grossly perforated at the neck and was removed:
The dog subsequently made a full recovery after a lot of dedicated care and attention from Birstall Vets4pets team.
This does make sense.  Emphysematous cholecystitis is associated with increased risk of biliary rupture in people.  Obviously, if the bile has an outlet (into the abdomen) then it's not accumulating in the biliary tree and causing jaundice. And, for the same reason, no bile is reaching the gallbladder.